the program
New Hope for Kids' Grief Support Program provides a safe and supportive environment where children grieving the death of a loved one can share their experience with others facing the same feelings of loss.
Offering a unique opportunity for children to begin and continue their grief journey, New Hope for Kids strives to provide our families with hope, healing and renewal.
We also extend support for the entire family through parent support groups, community awareness projects, information and referral services, as well as family events and summer camps throughout the year, we believe every child deserves the opportunity to grieve in a supportive and understanding environment.

Children's Wish Program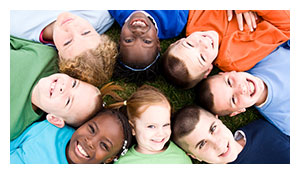 In 1985 the Children's Wish Program was founded as a not-for-profit charity to grant wishes to children with life-threatening illnesses who have not yet reached their 19th birthday nor had a wish granted previously.
A life-threatening illness is defined by New Hope for Kids as any illness which will in all likelihood shorten the child's full life expectancy. Since its beginning, more than 1200 wishes have been granted.
Although the New Hope for Kids Wish Program is not able to cure the life-threatening illnesses of their wish children, it is proud to grant wishes and provide follow-up support in order to lighten the burden for the children and their families and improve the quality of time remaining in the child's life.
who we are:

Staff
The Center for Grieving Children is comprised of a small, core staff of professionals with advanced degrees in counseling and social work, as well as experience in bereavement counseling.
Volunteers
Extensively trained Grief Facilitators are the heart of this program. They are trained to facilitate groups, make families feel at home, and generally support the work of the program. Grief Facilitators come from all walks of life and contribute, on average, 6 hours a month to New Hope for Kids.
Sponsors